Much research has been done on how national parks have historically not inclusive for all Americans. The staff and visitors have been primarily able-bodied, but the need for more inclusivity in the parks has been acknowledged. There have been many steps taken and parks continue to develop programs and facilities to encourage visitors of all backgrounds to enjoy national parks and all that they have to offer. Here are some parks to inspire people of all backgrounds to get outside.
1.Grand Canyon National Park
Grand Canyon is a rich place to visit, but it's not just visitors that the park aims to bring in. Grand Canyon has a diversity program established that includes people of diverse backgrounds and uses their talents to help preserve the natural landscapes. Additionally, the South Rim Trail is accessible from Lookout Studio to the South Kaibab Trailhead and offers spectacular views.
2. Yosemite National Park
Yosemite National Park in California, one of America's first parks, has larger-than-life rock formations, towering trees, flowing rivers, and so much more. Yosemite offers Deaf Services as well as many accessible trails to explore this 1000+ square mile park. Be sure to check out Mariposa Grove to view some giant sequoias. You don't want to miss this gem!
3. Great Sand Dunes National Park
Great Sand Dunes National Park in Colorado offers the unique experience of sand dune hiking. That's right, sand dunes in the middle of Colorado! Visitors are able to rent an accessible wheelchair in order to climb the dunes and take in the views -which are are great, but the stargazing is even better. Be sure to stop by!
4. Glacier National Park
On the Montana-Canada border you'll find Glacier National Park, a beautiful mountainous landscape that is working hard to implement accessible infrastructure despite the strenuous terrain. A shuttle system that follows the legendary Going-to-the-Sun Road is ADA accessible and allows people to experience the true beauty of Glacier National Park. Additionally, the St. Mary visitor center has assisted listening devices for the park introduction video.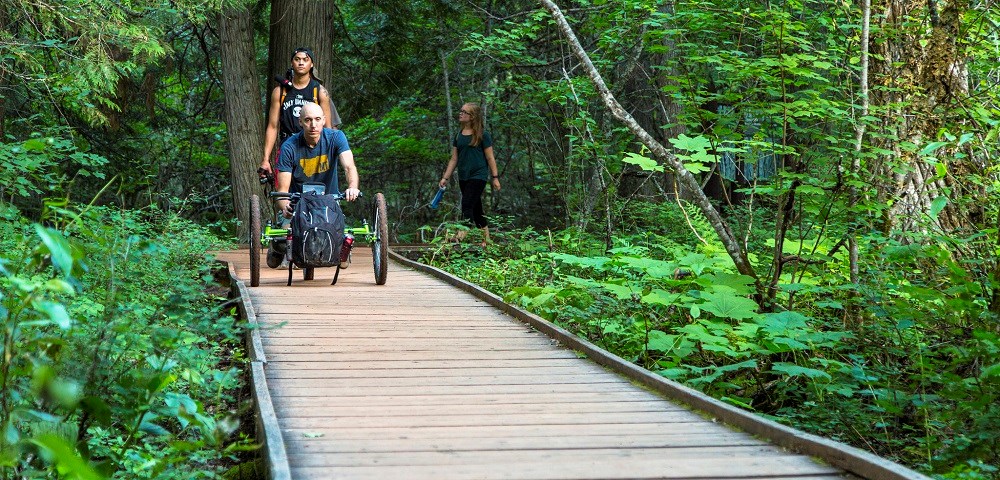 5. Arches National Park
Arches National Park is located in Utah and offers barrier free trails and audio-visual programming within the park. A great key trail to look at is the Devils Garden trail, which has relatively flat and hard surfaces but does not skip out on the views-Landscape Arch is at the end of the trail! Arches also offers an audio brochure for visitors that is available on their website. Make sure not to miss this red-rocked landscape!
Disclaimer: This list is not a comprehensive list of all the programs offered within the National Park Service. There are hundreds of parks, preserves, and sites that have accessible facilities, offer programs as needed, and have initiatives to increase diversity within National Parks. I highly encourage you to find a park that interests you and see what kind of programs they have. Chances are you'll find something great!
References: